Cory Doctorow was born in Toronto, Ontario in 1971. His short story Craphound has been printed in Science Fiction Age , Years Best Science Fiction XVI and in the Canadian anthology, Northern Suns. Craphound, was a finalist for both the 1999 Prix Aurora Award and the1999 Theodore Sturgeon Memorial Award. Cory has since won the 2000 John W. Campbell Memorial Award for the Best New Writer and has sold over 30 short stories to various SF magazines and anthologies. Cory's critically acclaimed first novel, Down and Out in the Magic Kingdom is selling quite well, even with a free online version available. His second novel, Eastern Standard Tribe, is now available. His collection, A Place So Foreign and Eight More, is also available.

Cory's non-fiction book called The Complete Idiots Guide to Publishing SF co-written with fellow Canadian SF author, Karl Schroeder is now on sale.
---
Look for Cory's newest novel
Eastern Standard Tribe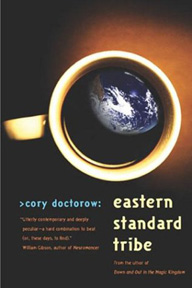 Now Available!

Interesting Links
Online Reading